Obama threatens military chaplains if they minister during shutdown, Honor Flight Vets, Ben Carson Audited, Who Shut Down the Govt.?
October 5, 2013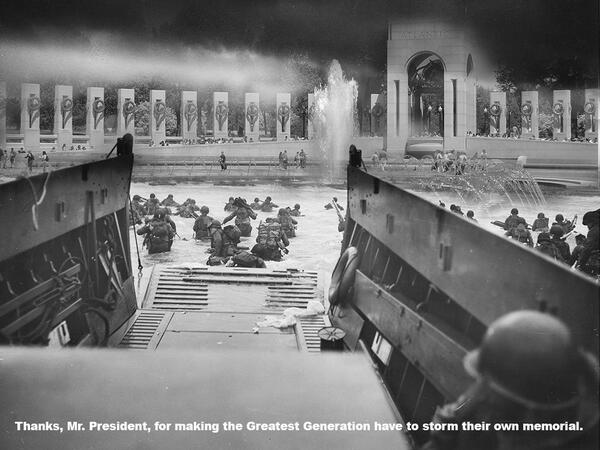 Thomas Sowell: Who Shut Down the Government?
...The Senate chose not to vote to authorize that money to be spent, because it did not include money for ObamaCare. Senate Majority Leader Harry Reid says that he wants a "clean" bill from the House of Representatives, and some in the media keep repeating the word "clean" like a mantra. But what is unclean about not giving Harry Reid everything he wants?
If Senator Reid and President Obama refuse to accept the money required to run the government, because it leaves out the money they want to run ObamaCare, that is their right. But that is also their responsibility.
You cannot blame other people for not giving you everything you want. And it is a fraud to blame them when you refuse to use the money they did vote, even when it is ample to pay for everything else in the government...
Why Is Obama Admin Spending Money to Close Open-Air Parks During the Gov't Shutdown?
The National Park Service appears to be unnecessarily erecting barricades during the government shutdown. Its actions have left many tourists to wonder, if the NPS can spend money keeping people out of open-air parks, why not spend that money to let people in?
There have been many reports of barricades in places that do need them, as well as reports of people removing, or circumventing the barricades. Wisconsin Governor Scott Walker (R) has said
he will defy orders
to close the parks in his state...
Military Priests Face Arrest for Celebrating Mass in Defiance of Shutdown
First, it was the World War II veterans who had to break down barriers to see the open air, un-attended memorial erected in their honor. A memorial which is on public land but is supported – including the National Park Service fee – with private funds. This week there was more security surrounding this memorial — just to keep elderly veterans out — than there was at our embassy in Benghazi the night it was attacked.
And for what? To inflict as much pain as possible through this government shutdown. It's called Washington Monument Syndrome, and it's pure political theater.
But now there's a story just coming to light that takes things even further. According the Archdiocese for Military Services, GS and contract priests (who are paid by the federal government as independent contractors in places where there aren't enough active-duty priests to meet the needs of Catholics in military service) are being forbidden from celebrating Mass, even on a volunteer basis...
More:
Priests threatened with arrest if they minister to military during shutdown
Anglican Ink: Govt shutdown may shutter military chapels
If the government shutdown continues through the weekend, there will be no Catholic priest to celebrate Mass this Sunday in the chapels at some U.S. military installations where non-active-duty priests serve as government contractors.
Military personnel enjoy, like all Americans, the First Amendment guarantee of the "Free Exercise" of their particular religious faith. But because military personnel are considered a "captive audience," the laws of our country require the government to provide access to that faith. This is why we have a military chaplaincy. This all becomes very clear when one thinks of a military family stationed in Bahrain or Japan. They cannot walk down the street to the local synagogue, church, mosque, etc.
There is a chronic shortage of active duty Catholic chaplains. While roughly 25% of the military is Catholic, Catholic priests make up only about 8% of the chaplain corps. That means approximately 275,000 men and women in uniform, and their families, are served by only 234 active-duty priests. The temporary solution to this shortage is to provide GS and contract priests. These men are employed by the government to ensure that a priest is available when an active duty Catholic Chaplain is not present. With the government shutdown, many GS and contract priests who minister to Catholics on military bases worldwide are not permitted to work – not even to volunteer. During the shutdown, it is illegal for them to minister on base and they risk being arrested if they attempt to do so...
Why Was Dr. Ben Carson Audited After Prayer Breakfast?
Dr. Ben Carson is the latest on the growing list of conservatives targeted by the Internal Revenue Service.
The well-known neurosurgeon told The Washington Times the IRS hit him with an audit just months after his speech at the National Prayer Breakfast in which he talked about the nation's "moral decay and fiscal irresponsibility" in front of the president.
"I guess it could be a coincidence, but I never had been audited before and never really had any encounters with the IRS," Carson said. "But it certainly would make one suspicious because we know now the IRS has been used for political purposes and therefore actions like this come under suspicion."...